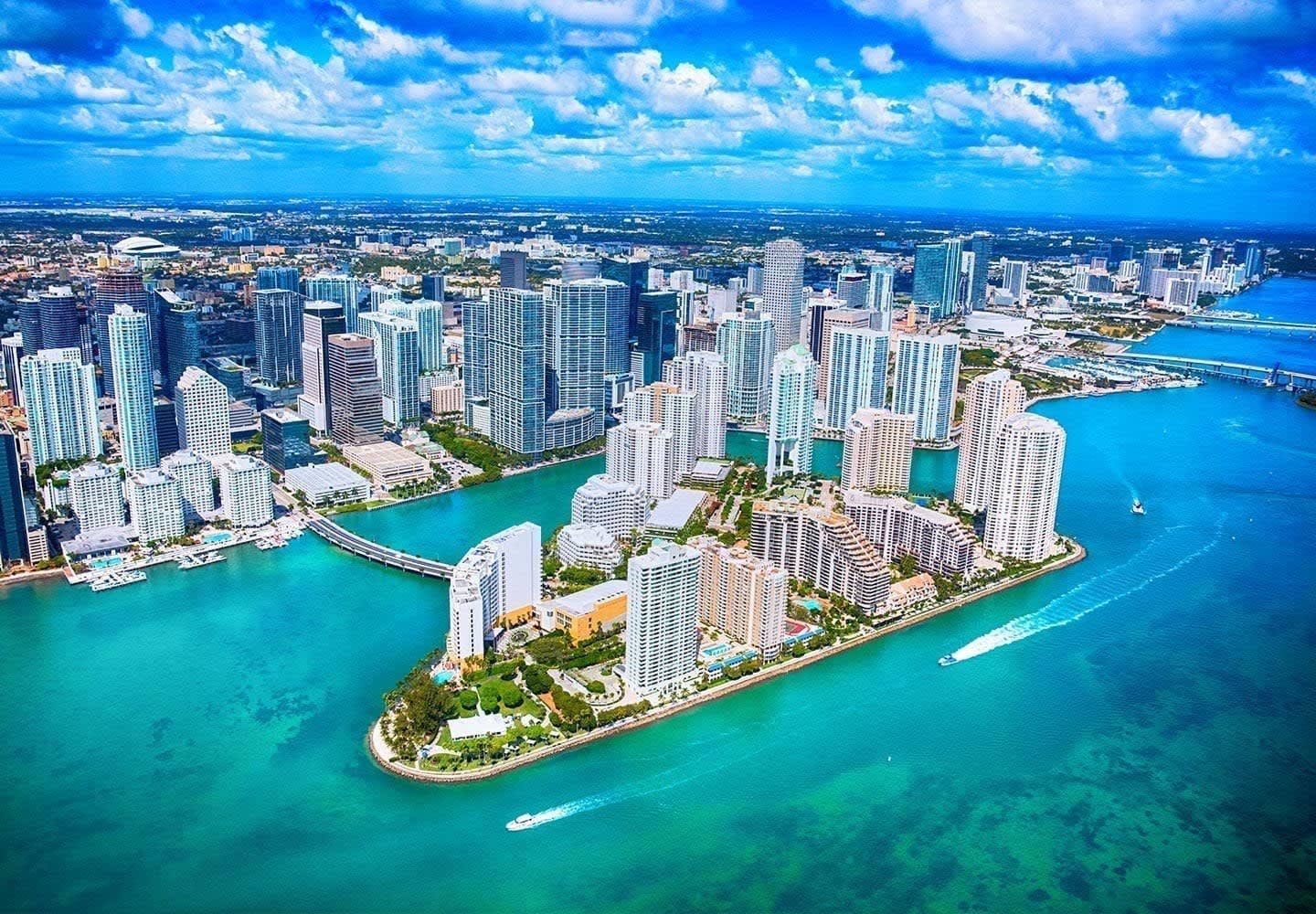 Image credit: pods.com
The City of Miami is described as a coastal metropolis located in Miami-Dade County in Florida. As of the 2020 census, Miami is said to have an estimated population of 467,963. This makes it one of the major largest cities in the U.S.

Miami is known as a central hub for finance, commerce, culture, arts, and international trade. It was even classified in 2020 as a Beta + level global city by the GaWC.

Greater Downtown Miami has one of the largest concentrations of international banks in the entire U.S., and it is home to many national and international companies. The Health District is a major center for hospitals, clinics, and biotechnology and medical research industries. It is also home to the busiest cruise port in the world, in both passenger traffic and cruise lines.

With all of this in mind, it is no shock to know that Miami is considered one of the best places to not only retire but also for young professionals to settle down to either start a family or to find a place to find work.

Miami is mainly known for its beaches, food, and nightlife, but rest assured that there are more qualities to this major city of which its residents are extremely proud. Here are some things you should know before moving to Miami, and the two major tips you should follow.
Be prepared for the weather
When people think of Florida, what often comes to mind is the weather. If you're from up north and accustomed to snowy winters, the Florida heat can feel like a paradise! But if you're relocating to Miami from a dry, arid climate, the humidity can be a big surprise. You'll want to expect frequent and intermittent rain showers and pack accordingly, making sure you always have an umbrella in your car and that your wardrobe has been updated.


Hurricane season is something that is drilled into Miami locals and includes keeping stocked essentials, having evacuation plans, and planning for any scenario depending on you and your family needs. The hurricane season typically occurs between June and November, with August historically being the busiest month, so be guard and make sure that you are following proper protocol.


Nearly every section of the country experiences some form of extreme weather, so there's no need to panic – as long as you prepare ahead of time, you'll be able to weather any storm.


Locals believe that the benefits of living in Miami outweigh the risks, especially in terms of weather and climate. Specifically, November through April is extremely beautiful, according to locals. If you've grown accustomed to long winters shoveling snow in your driveway, your new Miami home will be a refreshing surprise! There's no snow here; instead, you'll be able to relax outdoors throughout the summer months.
Know about the community before making the move
Culture is huge in Miami. It is one of the defining qualities.

The cost of living in Miami is considered high, most in part due to their housing costs. The

median

house costs range from $317,000 to $355,000, which is abnormally high. You will need a substantial income to be able to purchase. Of course, there is the option to rent, where the median rent is about $1,183. Some

tips

you should follow when navigating the Miami housing market is to explore the condo market and potentially score a deal, especially since there has been an influx of unsold condos in the past year. Luxury real estate is prime in Miami and if that is what you are looking for, you are definitely in luck. There is a large inventory for luxury real estate in Miami.


Renters are central in places like the Greater Downtown area, while home-buyers tend to flock to Homestead or Miami Shores.


While the cost of living is high, however, the taxes are low. There is no state income tax in Florida, which could save you thousands. There are Federal income taxes, of course. Sales tax in Miami is 7%, which is less than other parts of the U.S. Property taxes are varied depending on the municipality, and you can receive a discount on property taxes if you pay bills early.


But, of course, financial aspects aren't the only big part of the Miami culture.


One thing about Miami is the diverse multiculturalism. Spanish is considered a second language in Miami, and many people speak it. Just over 50% of Miami-Dade residents speak Spanish at home, and it is a common second language all over South Florida, as well. Of course, this isn't to say you should learn Spanish, but it's something that you should expect to hear upon moving to Miami.


Miami is considered a good place to find a job and raise a family. The area is home to plenty of young professionals and people who are looking for a place to plant roots with their families. If you are ambitious enough, you can do both, and Miami is the perfect place to do that.


There are almost as many young people ages 25-34 in Miami as there are seniors, aged 65+. This could be considered proof that Miami is a great place for all ages, whether you want to relocate to Miami to start your life or go to retire.


It is also worth noting that the traffic in Miami is notoriously bad. Some of the best neighborhoods are dictated by traffic patterns - if one area is more congested, another might surge in popularity. Because of the population growth, it can make for some downright miserable commute times. Specifically places like the Brickell Avenue drawbridge, which can be backed up for hours on end.


And, of course, you can't discuss the culture of Miami without talking about the food. The food here is strongly considered an acquired taste. With strong affiliations in Cuban, Colombian, Haitian, Brazilian, and Puerto Rican cultures, the food here is stained with multiculturalism. But while the taste of the food may not be for everyone, the atmosphere is fantastic. Mostly laid-back and family-centric, with cozy interiors and authentic cuisine from different parts of the world.

There is so much to do in Miami, from outdoor sports activities such as beach volleyball or

Art Deco District Walking Tours

, to great seasonal events and nightclubs to frequent. There is no shortage of things to do around this city, and there is definitely something for everybody.


Miami is a mosaic – a variety of people, a variety of food, and a variety of things to do and places to see. If you are looking for a place that is diverse and colorful and loud, but with a proud professional district, this is the place for you.
Do you want to make the move?
If you are interested in Miami homes for sale, contact
Melva Garcia
, who is a Miami real estate agent ready to help you fulfill your home needs to make the move to Miami.